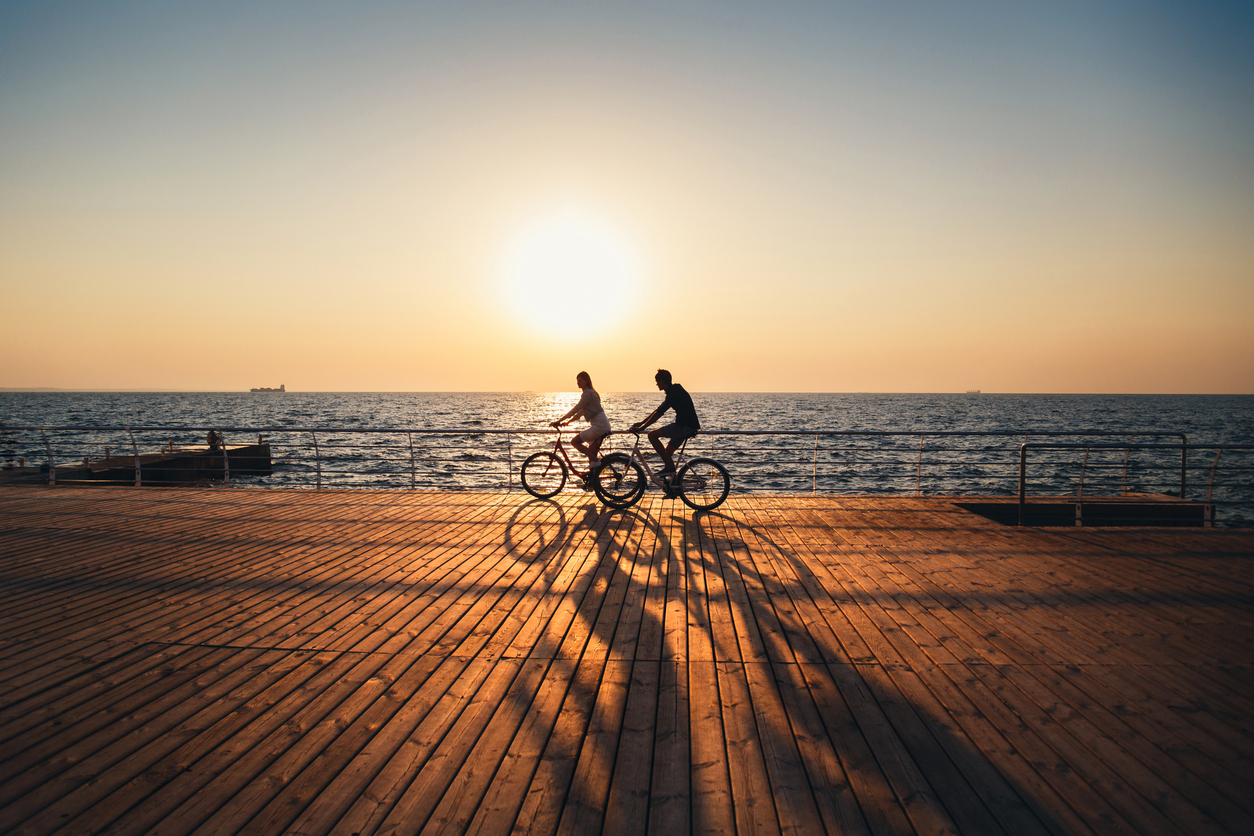 Winter cycling holidays
are becoming increasingly popular, and Spain is high on the list of cyclists' favourite destinations. But where in Spain should you visit this year?
Reheating Your Enthusiasm for Cycling in Winter
Do you find that as the days get shorter, wetter, and colder, your enthusiasm for cycling starts to wane? Perhaps it disappears altogether. You want to get on your bike and ride, but your motivation has gone the same way as the heat – way down south.
The perfect way to get back in the saddle is to head to Spain, where temperatures are warmer, days are drier, and the 'despues bici' is exciting and inviting. For all of this (and more), Catalonia must be on every traveller's bucket list.
Here's why.
Let's Talk Heat
You want it warm, but you don't want it hot.
In the northwest of Spain, between Bilbao and Huesca, and in the central regions around Madrid, winter brings plenty of snow and icy winds. Might as well stay in the UK!
Further south, below a line that can be drawn west to east between Seville and Alicante, day time temperatures average around 12 to 17 degrees Celsius, but can drop rapidly at night. While coastal areas remain reasonable temperate, inland regions such as Granada can see sub-zero temperatures that last through to midday.
The southeast fares well, with Cordoba, Cadiz, and Seville all offering the best and most stable temperatures, but cycling is not catered for as it is on the east coast ─ The climate for cycling in Catalonia from Girona in the north to the Costa Daurada south of Barcelona is stunning.
Let's Talk Cycling Variety
Variety is the spice of life, and for many cyclists it is what makes their wheels go round.
If you crave mountain climbs, Catalonia is the ideal place to cycle. But, in the winter, those mountains become cold and extra treacherous. However, look a little further south than the Pyrenees, and you'll find some exceptional hill climbs around Girona and Barcelona. Enough to satisfy your appetite and get your blood flowing, without risking frostbite.
You've also got tremendous smooth road surfaces to enjoy, bike-friendly city routes (Barcelona, for example, is famous for its 'Bicing'), and great coastal roads to explore.
The route heading north and south from Barcelona, from the beaches of the Costa Brava to the Costa Duarada, is perfect for those who want to have extended cycle runs with the opportunity to take in the sea air, winter sun, and great food and drink.
And Catalonia has more hidden gems to uncover than most of the rest of Spain!
Let's Talk About Being Out of the Saddle
All cycling and no play make Jack a dull boy, right? Which is why you should consider all that Catalonia has to offer, over and above some of the best cycling in Europe.
Girona may be known as the cycling capital of Europe, but it has plenty more to offer, too. It's a cultural delight, with some tremendous restaurants and food to die for. Even though it's a big city, the countryside is within touching distance, too.
And if you desire fun-packed time, then the perfect city base is Barcelona where there is a never-ending list of things to do. You can experience tremendous wines on a Barcelona Vineyard Tour, walk Las Ramblas, marvel at Gaudi's masterpieces, and spend afternoons and evenings in the lively Gothic Quarter – and visit the Camp Nou to watch some of the world's greatest footballers play.
Isn't It Time to Book Your Winter Cycling Holiday in Catalonia?
It may not be as warm as in summer, but Catalonia still offers some of Europe's best winter weather. With more than 150 hours of sunshine in an average January, there is plenty of daylight for taking in the marvellous and varied terrain this region offers cyclists.
With fewer tourists, some amazing winter festivals, terrific-value food and drink, as well as two of Spain's most treasured cities to explore, a winter cycling holiday to Catalonia could be the tonic your body and mind needs.
Here at Bicilona, we specialize in designing and providing the perfect cycling holiday for you.
Contact Bicilona now to discuss your needs and learn how we can meet them. All you need to do is tell us what you would like to experience, and we will create the best cycling holiday for you.