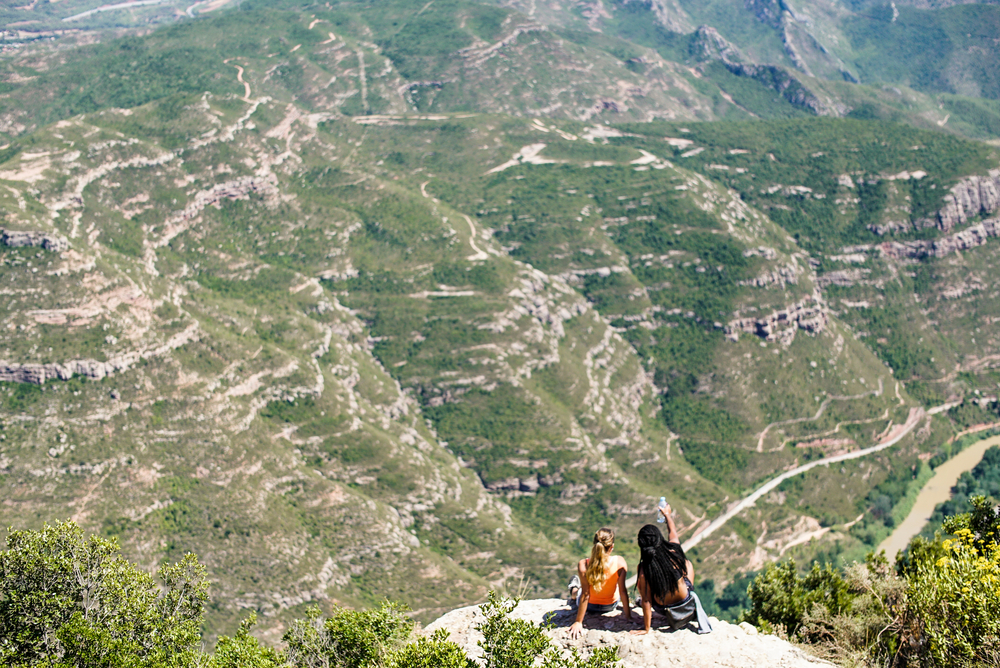 Test Your Cycling Skills in North Spain
Cycling in Catalonia is a safe and breath-taking way to enjoy the many different landscapes the region has to offer.
It's possible to cycle from one village to another, from one valley to another, from one mountain range to another, or even from town to town. The landscape can vary from green hillsides, valleys full of orange trees, craggy peaks and plunging ravines.
Some of the best cycling in this region – with routes suitable for all – are to be found in the hills and mountains.
Here we highlight a few of the best mountain climbs in Catalonia.
1.    Turó de l'Home
Located in the municipality of Sant Llorenç de Morunys, the mountain (in English, 'The Mountain of Man') is best known for its cycling race which was first held in 1969.
The race starts at the foot of Turó de l'Home's mountain and takes cyclists on a course that goes through the villages of Montagut, Montclar, Turó d'en Jordà, Sant Llorenç del Munt, Rellinars and Tomba Fonda. The final climb to the top of Turó de l'Home's mountain has an altitude gain of 1,200 meters.
If you are cycling from Barcelona, it's 70km to the summit.
2.    Mare de Deu del Mont
This Mare de Deu del Mont route has challenging ascents and descents. It is one of the hardest climbs in Spain, and includes three climbs in the Girona area. You'll find the views spectacular, and worth every ounce of effort you put into the ride.
3.    Mont Caro
Mont Caro is one of the highest mountains in the region. It has magnificent views of Barcelona and many other towns below it.
It is also one of the most famous cycling routes in Catalonia. The climb itself is very steep with an average gradient of 7-10%, and has been a stage in the Vuelta Catalunya many times.
4.    Montjuic to Tibidabo
This route takes you from the hill of Montjuic through Barcelona, and on to the peak of Tibadabo. You'll experience enjoyable climbs and fantastic views of the city and the Mediterranean Sea.
The route is not too tiring or difficult – but enough to give you a taste of Catalonia's mountain climbs and Barcelona.
5.    Rassos de Paguera, Coll de Pal, La Creueta
While the average climb on this route is 7%, sections of as much as 27% are brutal and will test even the most seasoned cyclist. Why put yourself through this? The views over the mountain range are some of the best you'll ever experience.
6.    Vallter 2000
Set in the Pyrenees, this 14km ascent is a climb to test your strength. Right on the border with France, this Pyrenean ride takes you to 2,000 metres above sea level.
As you can imagine, the views are amazing. Make sure to rest and have a bite to eat here before you make the descent.
7.    Rat Penat
Another brutal climb, with ascents of as much as 23% gradient, this ride takes you to 600 metres above sea level. It's in the Catalan Coastal Range, and starts from Sitges. Take care on the hairpins on your descent, and marvel at the views of Barcelona, Sitges, and Castelldefels.
Mountain Climb Tours with Bicilona
One of our most popular mountain climb tours is our Tibadabo Challenge. It's a fully-guided ride of 50km in total which takes around 5 hours to complete.
If you want something more challenging, we cater for all group sizes and cycling experience. Whatever your preference, let us know and we will help you create a unique cycling tour that takes you to the best mountain climbs in Catalonia.