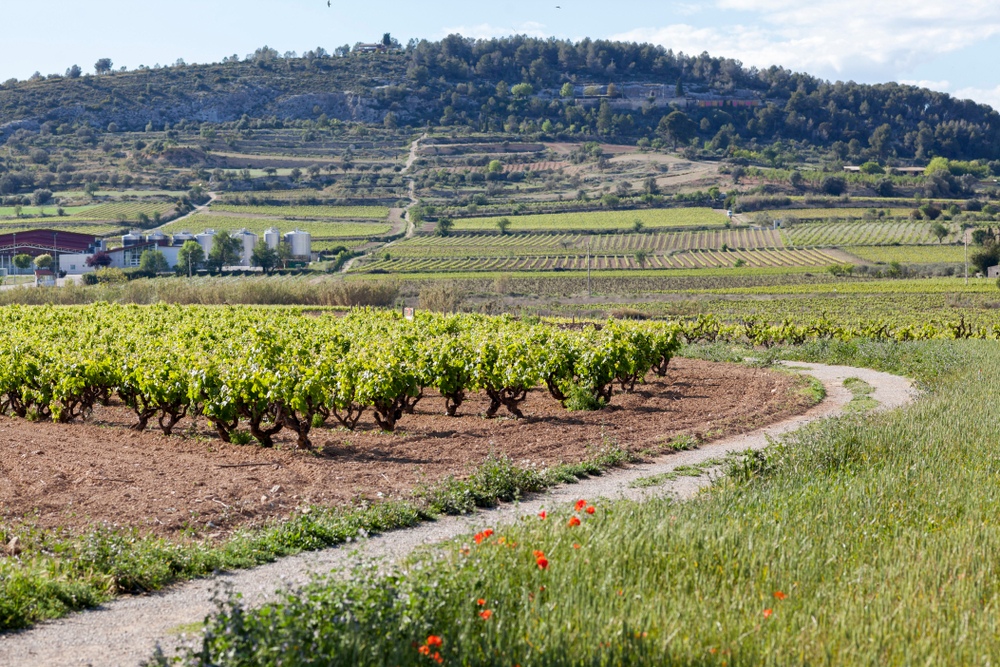 Cycling Through Penedes, the Cava Region of Catalonia
Penedes, the cava region of Barcelona, is where most of the Spain's cava is produced. It also has some of the most stunning cycling routes in Catalonia. Which makes this area perfect to combine your passion for fine wines with your love of cycling. Holiday heaven!
Welcome to Cava
Cava is Spain's answer to champagne, and a fantastic response it is, too. Made in the same way as champagne but with different grapes (usually a blend of Macabeo, Parellada, and Xarello) wine experts say it is closer to the taste of champagne than Italy's equivalent, prosecco. Cava will have been aged for at least nine months, while the most superior Gran Reserva is aged for at least 30 months.
Welcome to Penedes
Penedes is the home of cava, with the town of Sant Sadurni d'Anoia at its heart. This town is often referred to as the capital of cava, and is where all Cava Route tours should start.
When travelling by bike, a wonderful way to see the local vineyards near the town is from the special vineyard viewing points, 'miravinyas', where you can enjoy unique panoramic views.
Welcome to the Best Cava Vineyards to Visit by Bike
The Viñas, or vineyards, of Penedes lie just 30 minutes from Barcelona and are responsible for more than 80 percent of the country's cava. With more than 150 wineries in the area, you will be spoilt for choice. To help you, here's our choice of the vineyards that you shouldn't miss on a cava cycling tour.
·      Codorniu
Codorniu is well-known across Spain. The Codorniu family are credited with inventing cava with their winery dating back to 1551. The cellars are a traditional example of Catalan modernist style and were declared as a National Artistic Historical Monument by King Juan Carlos I.
·      Alta Alella
From the incredibly old, we move to the relatively young. This family project started when the owners bought the 19th-century estate Can Genis and is the closest cellar to Barcelona, located two kilometres from the Mediterranean Sea. Organic farming, respecting nature and the environment has always been the focus of this winery.
·      Joan Sarda
This vineyard is a real 'rags to riches' story. After a bumper grape harvest, a family of peasants was able to start trading in the city of Barcelona. Their winery and its cava have since gone from strength to strength. Tours here include a walk around the vineyard and an insight into its grape varieties.
·      Mas Comtal
This family-owned vineyard favours ecological wine production. Located near to the shores of the Mediterranean, this winery produces sparkling Brut Reserva Cava, considered one of the best in the region.
While you're here, take the opportunity to admire the Roman arch, which dates back to when the grounds were used as a refuge for Roman travellers in need of rest and hospitality.
·      Frexinet
The Frexinet Group is one of the largest producers of cava. It has 18 wineries (or bodegas) in seven countries on three continents. However, the company's heart never strays far from its home in Catalonia. The winery has built a reputation for combining tradition and innovation. The state-of-the-art technology makes a visit to this vineyard a must.
·      Pares Balta
Pares Balta is a traditional, family-owned winery which dates back to 1790. Its cava cellar is a key part of the vineyard tour, alongside its production process and wine blending. Its estate of vineyards spreads across the mountains of Penedes.
Welcome to Cycling on the Cava Trail
There is a wealth of cava trails and tours to transport you to the majestic vineyards of Barcelona, where you can sample some of the finest cava in the world. Combine these with the idyllic cycling terrain and year-round climate found around Barcelona and you will enjoy the perfect cycling holiday in Catalonia.
You are just a sip away from your cava in Barcelona cycling break.
Here at Bicilona Tours we specialise in unique experiences for the travelling cyclist. We can help you create a personalised cycling route that weaves through this stunning cava region, Barcelona included.
Contact Bicilona now and we will help you create a bespoke cycling tour that you'll remember forever. Whether you want to get away for a couple of days or longer, we have the experience and inside knowledge to create the cycling holiday of your dreams.