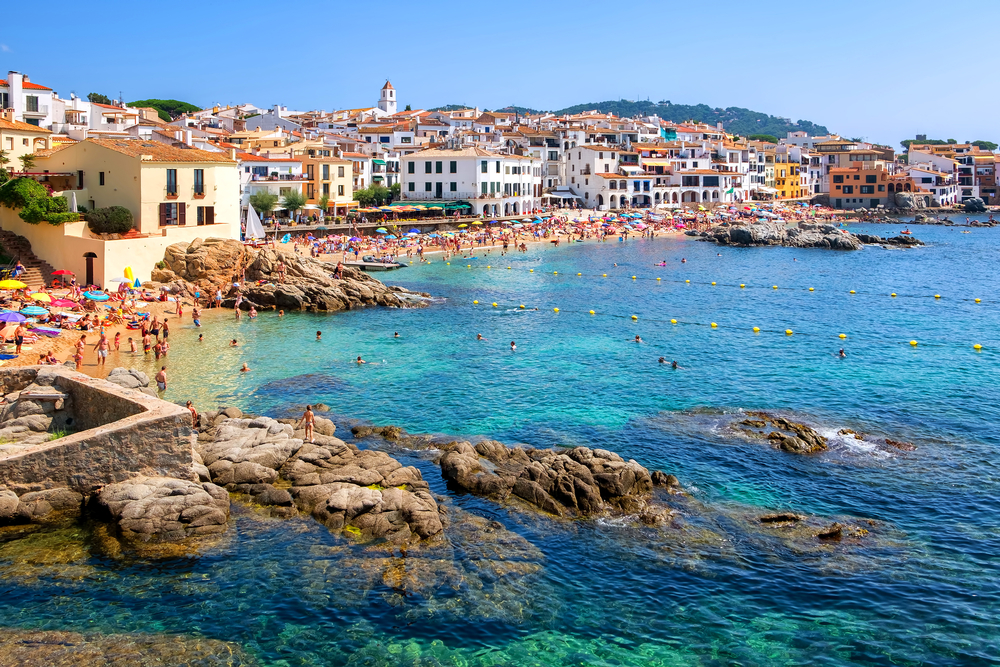 For the Experience of a lifetime, Visit Catalonia
Catalonia really does have it all! For travellers it is a magical kingdom full of rich culture, traditional heritage, gastronomic delights, and wonderful wines.
Bordered by the mountains and the Mediterranean Sea, its medieval buildings contrast with modern architecture. The sparkling coast is home to vibrant and colourful culture.
Barcelona is a city for all people.
The medieval buildings of Girona will transport you to a bygone age.
The former Roman capital of Tarragona is an eclectic mix of past and present with Roman ruins, beaches, bars, and seafood.
Lleida boasts a natural beauty that is ideal for outdoor adventurists.
You'll find that this north eastern corner of Spain has an abundance to offer visitors, from quiet, picturesque villages to the hidden gems of its cities, and beautiful coastal towns.
The 7 Wonders of Catalonia
Here are seven of our favourite things to experience and places to see in Catalonia.
1.     Sant Mauricia
This is the only Spanish national park in Catalonia and can be enjoyed on foot or by car. Wherever you go, you'll find beautiful high mountain scenery with meadows, rivers, and peaks of up to 3,000 metres. The most photographed place is the Lake of Sant Maurici with the Els Encantats Mountains in the background.
2.     Relive Roman Times in Tarragona
Once the site of a thriving Roman city, Tarragona is now an open-air museum and Unesco World Heritage site.
In May, you can experience the Tárraco Viva Festival, which celebrates Roman Tarragona through re-enactments. Imagine gladiators battling for their lives inside the amphitheatre and walk along the ancient city wall or head to the iconic Devil's Bridge aqueduct.
3.     Barcelona's Gothic Quarter
The Roman inhabitants of ancient Barcino called this part of Barcelona, around Mount Taber, home.
Over the centuries, the city's main religious and civic buildings were built here including the Cathedral and the Church of Santa María del Pi, the Palau de la Generalitat, and the Mayoral Palace. Plaça del Rei is one of the most beautiful spots in this must-see area.
4.     Girona
The Cathedral of Girona cuts an imposing figure at the top of a long stairway, presiding over the beautiful city. The Cathedral is stunning on the outside, and the inside will leave you gasping at its sheer beauty.
Located within a Roman fortress, Girona's Jewish quarter is one of the best in the world. Known as El Call, its narrow, winding alleys and cobblestone streets date back hundreds of years. Must-sees include the Museum of Jewish History housed in an old synagogue as well as an 11th-century tapestry in the Girona Cathedral depicting a Jewish couple. Be sure to visit Carrer de la Força, the quarter's main street.
5.     Monserrat Monestary
Surrounded by weathered cliffs, this gorgeous Benedictine monastery resembles a castle in the clouds. Originally constructed in 1025, legend has it that miracles took place here and so people travel from near and far to pay their respects.
6.     Food and Wine
Home to more than 300 wineries, Catalonia is a wine lover's dream come true. From the terraces of Priorat to the Empordà coast to the mountains of Lleida, a vino or two is always to hand.
7.     Fiestas & Festivals
Catalonia is home to a range of fiestas and festivals that will turn any visit into the experience of a lifetime. These take place throughout the year in Catalonia, accompanied by uniquely Catalan traditions such as the castell, a Unesco World Heritage recognised event in which performers form human towers up to ten people high by interlocking hands and shoulders. The performances are so popular that Catalonia keeps a castell calendar.
Other festival traditions include sardanas, in which participants, holding hands, dance in a synchronised circle, as well as haveneres, folk songs with Caribbean roots introduced to Catalonia by sailors in the 18th century.
Bucket List Biking
One of the best ways to explore this wonderful region is by bike, and Catalonia offers some of Europe's most spectacular cycling.
Whether you're a seasoned cyclist or a first-time cycling vacationist, we have a range of tours specially created for you. From our 6-day Catalonia Cycling Holiday, to our 'Create Your Own Cycling Holiday' service, to our one-day cycling tours, like Catalonia itself, Bicilona offers a cycling experience for all.
To find out more, send us a message and let us know your preferences.