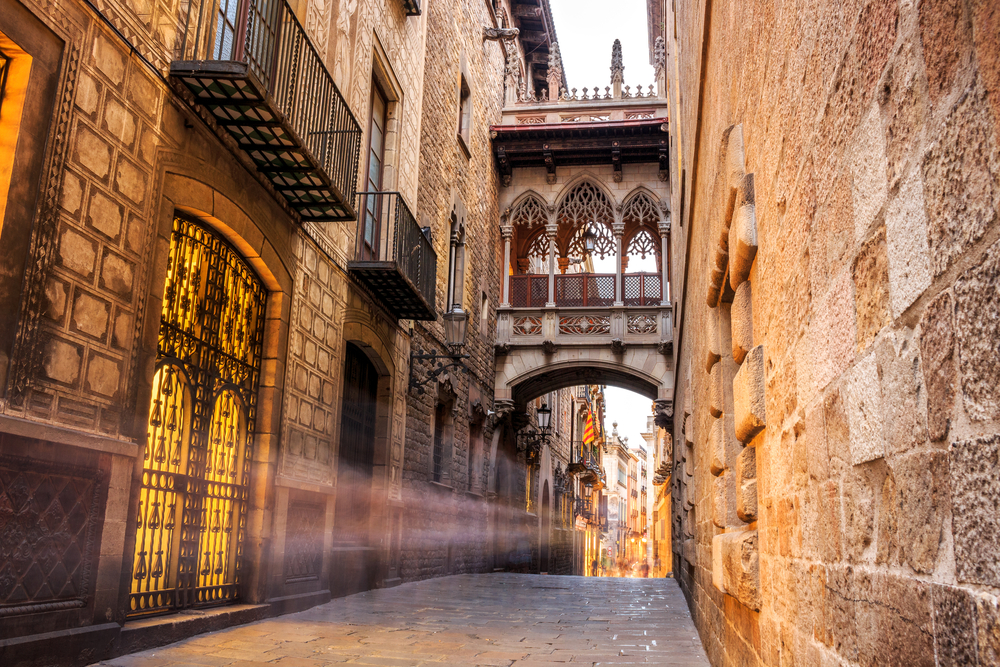 Discover a City Full of Beauty, Heritage, Food, and Fun
Ah, you're wondering about the best things to do in Barcelona. You'll want to read this article, then, because Barcelona is a vibrant city with a wealth of famous attractions and hidden gems to discover and experience.
In fact, there is so much happening in this cultural hotspot that it is easy to lose hours, if not days, just wandering the streets. Our guide will help you plan your visit to ensure you hit all the right spots.
La Sagrada Familia
You simply cannot visit Barcelona without seeing this amazing and unique cathedral, the most famous Barcelona landmark of all. People travel from all over the world to see the cathedral ─ and 2.8 million visitors a year can't be wrong.
It is expected that 2022 will be the year that sees the completion of the two towers of the Evangelists Luke and Mark, and the adding of levels to the tower of Jesus Christ.
The Sagrada Familia ─ or to give it its full title, the 'Basílica i Temple Expiatori de la Sagrada Família' ─ is a Roman Catholic Church designed by the famous Catalan architect Antoni Gaudí. Construction began on the Sagrada Familia in 1882, and Gaudi was aware that he would not be alive to oversee the project through and so left detailed designs to guide its completion.
Park Guell
Park Guell is a make-believe landscape which is home to Barcelona's famous mosaic lizard ─ the image on a thousand postcards ─ and spiral towers that look like fairground slides.
The city's grandest park began life as a collaboration between entrepreneur Eusebi Güell (hence the park's name) and Antoni Gaudí, when the city's famous architect was commissioned to build an urbanization for wealthy families. About 60 triangular plots were planned, with a complex network of roads, viaducts and stairs that saved the topography of the land.
Today, Park Guell is a public park much appreciated by Barcelona residents and an important focus for attracting visitors. It was recognized as an artistic monument in 1969 and was declared a World Heritage Site by UNESCO in 1984.
Camp Nou
Football fan or not, this is a must-see in Barcelona. The importance of FC Barcelona to the city is mirrored in the capacity of its home stadium, the Camp Nou. At 99,354, it's the biggest football ground in Europe—and there's an expansion plan in place to push it to 105,000.
All seats are owned by season ticket holders, who then release them to the public if they can't go. As well as matches, tours of the stadium and the FC Barcelona museum are also available.
La Boqueria
La Boqueria is believed to be Barcelona's oldest market.
It started life in 1217 as a collection of meat stalls on La Rambla. It is now one of Europe's largest and most famous food markets. This is a place where you will love to spend an hour or two feeding the senses.
The Boqueria's grand entrance leads to a world of food that is bustling with tourists and locals alike. The floors are slippery with melted ice and fruit skins and the stall holders are loud, but this all adds to the atmosphere and the experience. You will find foods of all types and nationalities under one roof… and a range of vinos or cervezas to accompany them.
La Rambla
La Rambla is one of Barcelona's main thoroughfares and one of the most visited areas in the city. It is nearly 1.5km long and connects Plaça de Catalunya with the city's old port – which we also recommend you visit.
Las Ramblas is always lively, packed with tourists, locals, and street artists who pose like living statues. Numerous terraces and restaurants are located on both sides of the street, and people-watching is a great way to pass the time. Although be warned that the prices are a little steep, since this is a very touristic area.
Fun Facts
The beaches in Barcelona are not real
The city has 12 abandoned metro stations
Barcelona is home to the largest football stadium in Europe
It has nine UNESCO listed sites
La Sagrada Familia has taken longer to build than the Egyptian Pyramids
Barcelona was meant to be the home of the Eiffel Tower
Eixample has no street corners
La Rambla actually consists of five streets
Incorporate Barcelona in Your Cycling Tour of Catalonia
This cycle friendly city is one of the most popular in Europe, and there really is no better way to explore Barcelona than by bike.
Whether you wish to take a guided cycle tour in Catalonia or create your own, Bicilona has the local knowledge and expertise to ensure you get the most from your time in Catalonia's capital.
All you need to do is to tell us about your ideas, and we'll get working to help you have the most exhilarating, exciting, and enjoyable cycle tour you can imagine.