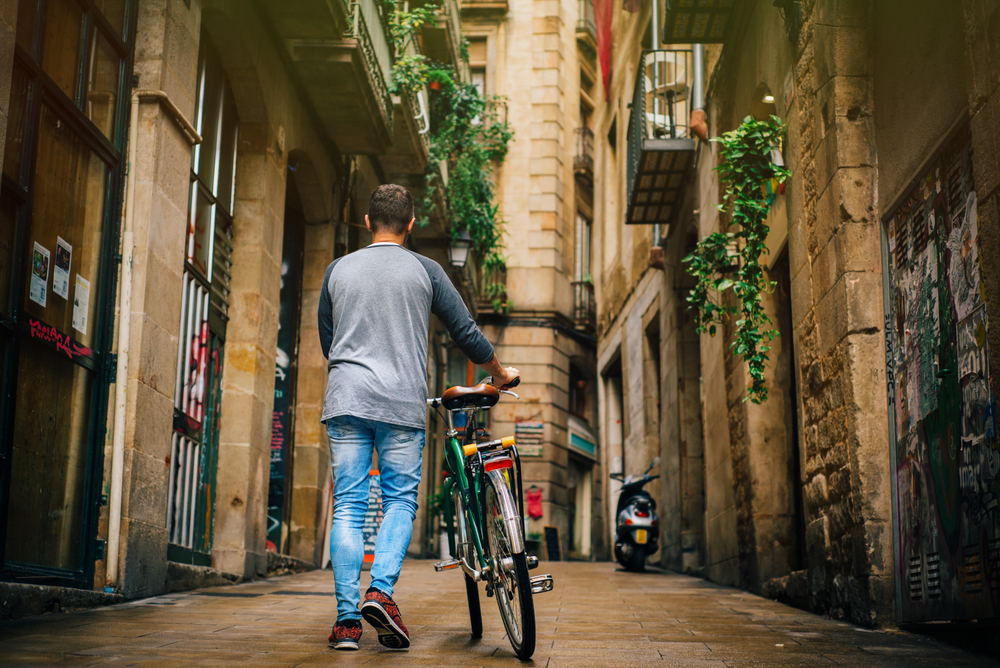 Travel Bookings Are Skyrocketing for 2021
The good news is that Cycling in Barcelona is set to return with a vengeance this summer.
Some UK tour operators have reported an increase in bookings by as much as 500%!
EasyJet alone reports an increase of 337% on flight bookings and a 630% in package holiday bookings in the week since the easing of lockdown plans were announced in the UK.
Cycling in Barcelona is always spectacular, but we know it's not all about being in the saddle. When the ride is over, there are some super cool ways to spend your time here.
Don't Be Average – Be Cool
You can do all the usual things you would normally do on holiday in Barcelona such as boat tours, a booze cruise, take a cocktail class, get lost in a maze, take a helicopter flight, or even kayaking.
We want your experience to be 'better than the average bear'. Here are seven ideas that will make your cycling holiday totally unique.
1.    Eat the Best Tapas
It is said that 'Tapas' was born when a barman served King Alfonso X a beer with a plate on the top containing snacks – the singular 'Tapa' was born. The king was so impressed he ordered all the inns throughout the country to do the same with every drink. The 's' was added to the word Tapa to simply imply the plural.
In Barcelona, Tapas is readily available, but what makes it super cool is to try it with a local tour guide to truly experience the best plates. Tour choices include:
Wine and Tapas
Beer/Ale and Tapas
Private Tapas Tours
Local Gastronomy Tapas
You can even combine your Tapas with some flamenco dancing to fully embrace the Spanish culture.
2.    Gaudi, Think Outside the Straight Lines
Of course, you will want to see the Sagrada Família in all its glory, but do you want to spend your time in that huge queue when there is so much else to see and do? How about visiting the Guell Gardens at sunset to indulge in this gorgeous romantic setting at its most charming?
Perhaps, take a trip around Gaudi's 'House of Bones' with all its mystical allure. Barely a straight line to be seen in this magical dragon-fronted casa. Gaudi believed that straight lines belong to man and the curved ones to God. This fascinating building just oozes his charm.
3.    Don't Get Shy – Get Naked
Why not join the locals at one of Barcelona's nudist beaches? You can choose from Mar Bella beach or San Sebastien towards the southern end of Barceloneta. There are friendly, cosmopolitan beach bars known as Chiringuitos serving drinks and tapas along the way. What could be more freeing after all that Lycra than bronzing your charms with liberated company?
4.    Chill Out in Barcelona's Ice Bar
Situated on the beach at Port Olympic – you will probably want to put your clothes back on for this. At the Sub-Zero bar, you will likely don a fur-lined arctic coat and gloves to drink your vodka from a frozen glass. Now there is being cool and there is being super chilled. We reckon this is one of the coolest and most amazing experiences to try here.
5.    Impress Your Friends Back Home
Take a paella cooking lesson direct from the masters. Learn how to cook this traditional Spanish dish and wow your friends back home. Who doesn't like a great paella? With classes costing around just €39, including food and drink, it's a bargain way to spend an afternoon and learn a new skill on your travels.
6.    Shop Until You Drop
Every big city has the most famous shops, but that's not what we are talking about here. We already told you about the multiple personalities of Barcelona in our article '6 Things to know before setting out' – now it's time to discuss vintage shopping.
Carrer dels Tallers (street of the workshops) is the place you want – a small street often missed by tourists. Crammed with great places to eat and drink, and overflowing with vinyl record stores, vintage fashion, and generally a super funky vibe. You paid for that extra suitcase on the flight, right?
7.    Climb to Dizzy Heights
Many tourists don't leave downtown when visiting Barcelona, but we think The MontjuÏc Cable Car to the castle is a must. The Old Military Forte is just one of the attractions on this trip. The Pablo Espanyol and Majic Fountain are worth seeking out whilst you are there. The cable car makes the steady climb to the top of the mountain (more of a hill) and you are rewarded with spectacular views of this fabulous city.
Start Planning Your Cycling in Barcelona Adventure Today
There is an abundance of things to do in this spectacular city. We are already seeing a huge uptake in Cycling in Barcelona bookings – 2021 is set to be as busy as ever.
Organising a bike tour as well as your time out of the saddle is a must if you are going to enjoy your break to the utmost. Following our ABCD of Ideas will help get you started.
At Bicilona we take the strain out of the research and planning and make sure your trip runs as smooth as a Shimano gear change.
Don't be a slow rider in 2021, Contact Bicilona today.