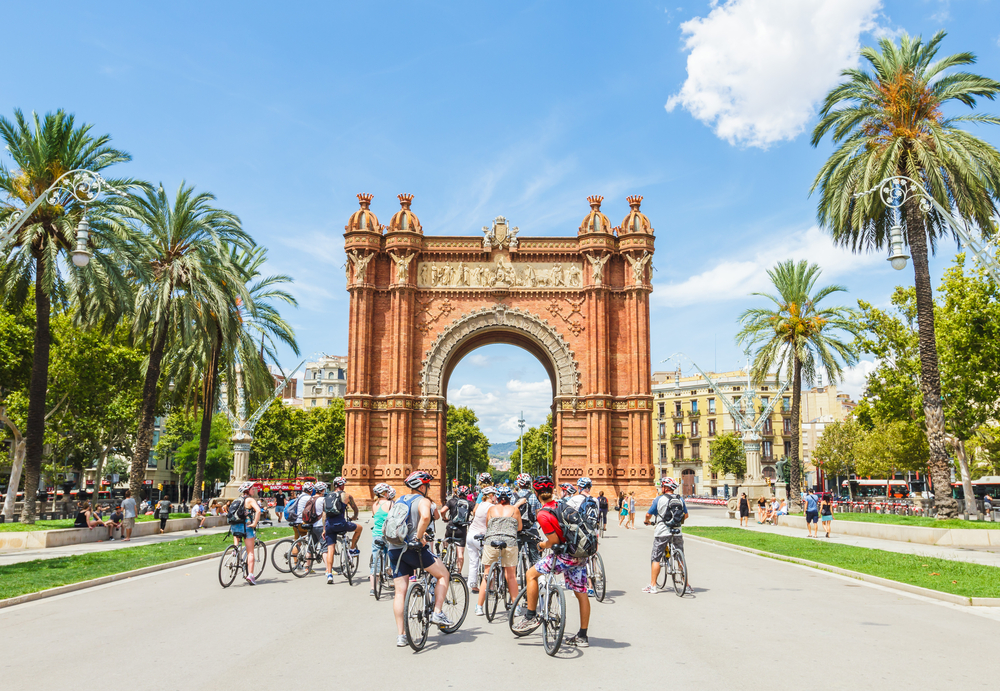 Making the Most of Your City Experience
Barcelona bike tours are a great way to explore this city. Cycling gives you total control and freedom to do exactly what you want at your pace.
In the World's Best Cities list, it's no surprise Barcelona is in the top 10. There is an abundance of things to see and do, and travelling by bike means you get to experience the city at its best. What could be better than riding in a warm climate with the gentle breeze on your skin?
Find out what you need to know before you visit this amazing city.
What Makes Barcelona Bike Tours So Popular?
Barcelona is a city of multiple personalities; the hardest part is deciding which one you want to meet first:
·      Gothic Quarter and the Old City
The heart of Barcelona. Ancient, cobbled streets brimming with over 2,000 years of history. Wind your way around the shops, hidden squares, and majestical cathedrals. It's undoubtedly an area to take things slowly.
·      Eixample and Central Barcelona
Out of the old town towards the Collserola hills are boastful, newer, wider avenues with plenty of bike lanes. It's where Antoni Gaudi introduced Catalan Modernism and built his most famous architectural achievements like Casa Mila, Casa Batlló, and La Sagrada Familia.
·      Outer Barcelona
An area of less tourism and more wide-open space. The area hints at the old-world industry of its past and hosts a multitude of hidden gems such as Palo Alto – an old leather factory now sharing space with over 20 art and design studios, a café, and a garden retreat.
·      Don't Forget about the Beach
Barcelona is part of the Costa Brava. Why not take a ride out to Platja d'Ocata beach and take in some sea air and beautiful views?
Before exploring, here are the six things we think you must know.
1.    Cycling in Barcelona Is Big
Exploring the city on a bike is considered one of the most popular forms of public transport here. Cyclists are given the freedom of riding through many parks and open spaces. The infrastructure has been adapted to accommodate 180km of traffic-free lanes throughout.
Barcelona has its fair share of city traffic jams, but getting around by bike means you won't get snagged up. Getting 'on your bike' is a great way of reducing your carbon footprint whilst benefitting from the exercise. Do remember to familiarise yourself with the rules and regulations though.
Touring by bike means you can visit multiple parts of the city all in one day!
2.    Wi-Fi Is Free in Barcelona
Barcelona City Council is so keen to stay on the best city list they even provide free Wi-Fi. The internet is accessed through Wi-Fi___33 points and hotspots around the city.
Most local street kiosks provide a connection to GoWex Wi-Fi as part of the Smart City initiative.
Of course, if you need an excuse for a coffee and cake stop, many eateries and bars have free Wi-Fi, too.
3.    Know Where to Shop for Essentials
You will likely have some essential shopping to buy, but do avoid international food stores as these tend to be quite expensive.
Barcelona has many supermarkets; the most competitively priced are usually Mercadona and Alcampo. Why not check out a local market for fresh produce and meet a few residents whilst you are there?
4.    Don't Try to Fight the Barcelona Routine
Barcelona has its own routine when it comes to food and drink. If you head out for food at 5pm you are likely to find most places snoozing after the lunchtime rush.
6pm sees the start of the mid-afternoon snack time known as a merienda. Dinner here is anytime between 8pm and 10pm. Drinks tend to start around 11pm. Check out What Food is Best When Cycling in Barcelona.
If you are a creature of habit, you may have some adapting to do.
5.    To Tip or Not to Tip?
Tipping is not expected in Barcelona. This includes servers, bartenders, taxi drivers, etc. Only tip if you want to reward exceptional service. If not, save your cents for another day.
6.    There is Never 'Nothing to Do', Whatever Your Budget
There are plenty of free and low-cost things to do in Barcelona. Do some research beforehand and look for activities like flea markets, language lessons, gardens/parks, etc.
If you fancy visiting a museum, plan ahead and find out which ones offer free entry days during your visit. Don't forget to check tourist websites for local festivals and parades.
Get the Most from Barcelona Bike Tours
Barcelona bike tours are some of the most exquisite in Catalonia. Getting to know as much as you can about the city and its culture is a great place to start.
To get the most from your Barcelona bike tour you will need to plan ahead. Why not tap into our first-hand experience and let us create your ideal Cycling Tour?
Contact Bicilona now and let's get started.