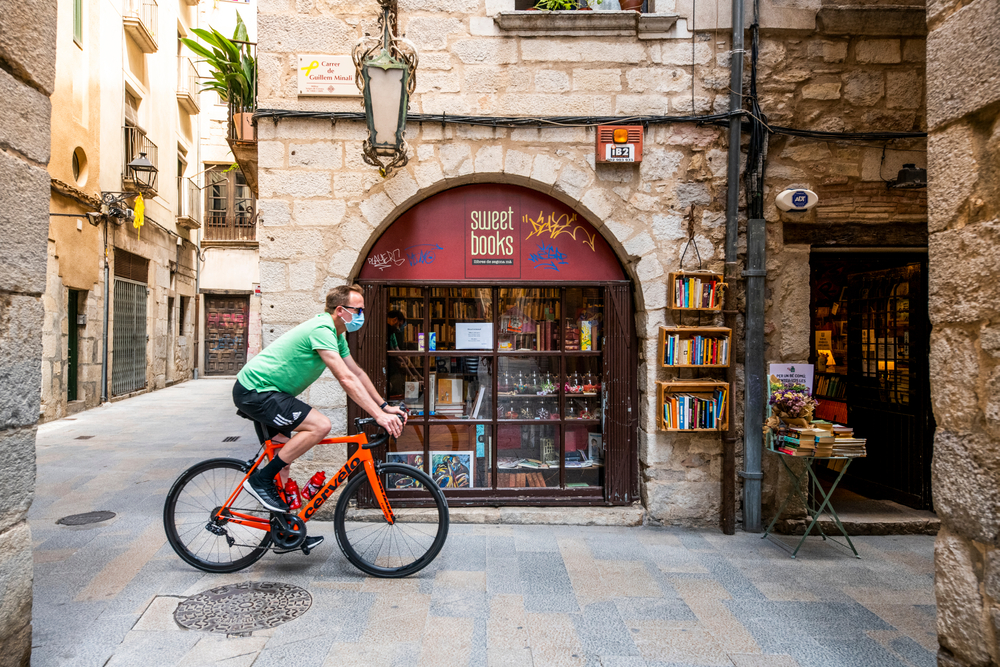 Are We Biased about Girona?
We think Girona cycling tours are the best in Europe – so much so, we invested our heart and soul and set up our business here! Yes, you could say we are a little biased, but let us tell you our reasoning and you can make up your own mind.
The crux of it comes down to what Girona has to offer. Oh, and, let's be honest, the hundreds of pro cyclists that have made their home here can't all be wrong, can they?
The Gironese People – You Won't Find Friendlier
First, what about the people? Catalonians have a laid-back approach to life. They just want to be happy and this makes for some of the friendliest people in Spain.
Second, Girona has a huge cycling community – many of whom are ex-pats. Cycling is the norm here and, mixed with the laid-back culture, this means drivers are patient and courteous.
People here are interested in the sport as it has been part of the history of Girona since Lance Armstrong's days in the 90s. You don't have to go far before you bump into someone wanting to shoot the breeze and chat bikes.
If you fancy a challenge and want to spot a few pros doing their stuff, get yourself to Pont de Pedra bridge in the morning. You never know who you might spot, but be sure to ask if you can tag along on the ride.
The City – You Won't Find More Alluring
Girona City is nestled in the valley of four meeting rivers. It is also blessed with stunning Gothic architecture. It sits between the coastline of the Costa Brava and the foothills of the Pyrenees. There is truly something to see at every turn.
The old town is dotted with coffee shops that fill the cobbled streets with tantalizing displays of fabulous cakes and delicacies, perfect for breaking up any long ride. Ex-riders Rory Sutherland and Christian Meier own coffee shops here, and you'll find this is where many of the pros hang out.
In typical Catalonian style, the winding streets come alive in the evening with locals and tourists alike gathering to sample the high-quality cuisine on offer. There are three Michelin-star restaurants here, perfect for the real foodies out there.
Time your trip right and you will get to experience one of the many fabulously colourful fiestas that fill Girona's streets.
The Hidden Nuggets – All Golden
The choice of rides and routes here is infinite. Girona cycling offers something for everyone and every skill level. Here are some of the golden nuggets you can choose from:
Road Routes – The landscapes are made up from coastal, volcanic, and mountainous terrain. The roads offer spectacular climbs and gradients with plenty of twists and turns. This is really what the pros are here for, they love it.
The Greenways – More than 3,000km of disused railway lines have already been converted into smooth, traffic-free cycle tracks across Spain. You'll find many of these in Catalonia. You can read more about these in our blog Find the Best Cycling in Spain in Spring.
The National Parks – With many national parks to choose from (not all allow cycling), we are blessed with some of the country's most natural beauty. Delivering wildlife, birds, and fauna throughout the year there is always something to see on your ride.
Sights to see – We could wax lyrical about the things to do here when you have finished your ride for the day. Every city has hidden gems and Girona is no different. Amongst its stunning architecture, you will discover fascinating museums, feats of engineering, local markets, and a city steeped in history. If you are lucky, you may come across the original shield from Game of Thrones or the harmonious gardens of John Lennon!
Garrotxa Volcanic Zone Natural Park – A huge, natural park covered by thick woodland and only bare where lava flows used to be, running from several extinct volcanic cones. La garrotxa in Catalan means a rough, broken, rugged ground: a perfect description of how the landscape is cut up by these ancient volcanic lava flows.
Castellfollit de la Roca – 'Castle on the Rocky Hill'. This village rise on a ridge that is just short of a kilometre wide and stand 50 metres high. The view over the river and beyond is spectacular. You'll be left in awe at the sight of this scenic village – and left wondering how on earth they built these houses. (By the way, we have found the café to take a break here while cycling in Girona.)
Girona Has It All
Whether you want a full holiday of bike tours or a few tours blended into your city break, Girona has it all. It is easily accessed by two airports and has great train links.
With over 300 days of sunshine each year, it certainly beats some of the other popular spots hands down – even if that does make us a little biased.
Bicilona would love to help you plan your ideal trip and cycle routes. Contact us now to enquire about our existing cycling tours or for a bespoke package.