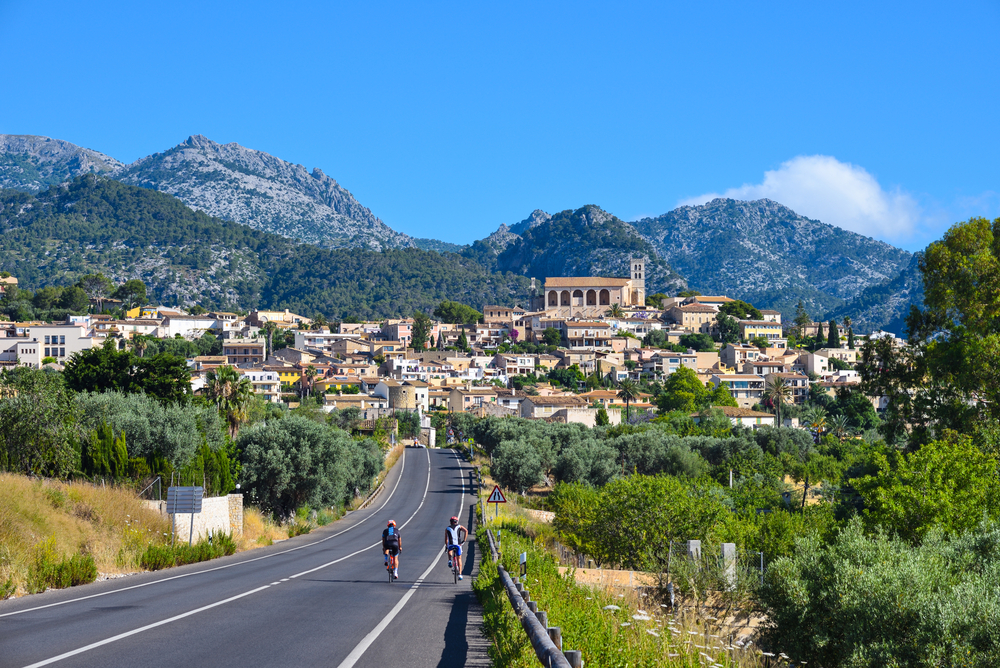 The Perfect Place for a Biking Break from the Winter Weather
Do you picture yourself cycling in Spain but not quite sure where you should be heading? Spain is renowned for its rural beauty and cycling hotspots. The question is, where do you start?
In this article, we provide you with ideas and inspiration to get those metaphorical pedals moving.
Why Cycling in Spain?
Spain has everything the cyclist needs, and more. The terrain is ideal. If you enjoy a challenge, you can choose a route with lots of climbs. If you want something more relaxing, you have the option to cycle long, open plains. Whichever you select, you will never be short of a terrific view.
There are plenty of route types to choose from including disused railways, nature trails, and, of course, coastal routes. Many are geared towards tourists and locals getting the most from their cycling experience, though there are also more challenging routes for seasoned cyclists.
With 300 dry days a year, time it right and the weather will be on your side.
So, When Is the Best Time to Cycle in Spain?
Perfect question! The short answer is spring. Why?
The climate is great for cycling and particularly in the spring. In March, for example, you can expect 12 full hours of daylight and average temperatures between 16.7°C (62.1°F) and 4.1°C (39.4°F).
The worst of the rain has usually passed by this time, and March only has a max of around five days of rain for the whole month.
The other key reason spring is ideal is that there are fewer visitors. Therefore, the roads, tracks, and trails are far quieter.
Catalonia is one of the best regions for cycling in Spain It's climate is much milder, dryer and more predictable than that of other Spanish regions. This is especially true of Barcelona, which is 'protected' by the hills of the Collserola Park from one side and the Med on the other.
Cycling here is particularly pleasant between March and November, and cycling late into the night is little different to cycling during the day – save for the sun, of course. (The temperature fluctuates little more than a few degrees between day and night. Not so good for sleeping, but great for a midnight bike ride!)
What Are the Most Popular Route Types Offered in Northern Spain?
Catalonia is welcoming to the cycling community – so much so that many pro-cyclists choose to make it their home. In particular, Girona offers some of the best cycling tours in Europe.
It has some of the most amazing roads for cycling in Europe. Roads that stretch for miles with no heavy traffic. Winding through mountains. Leading you safely through woodlands, fields, and villages. Letting you see the coastline for long stretches, too. Most of the time, it will be just you, your bike, the scenery, and the road.
Here are some of the most popular types of rides to consider on your trip.
Via Verdes (Greenways)
These are old railway lines converted to be used as cycling and hiking routes. Overseen by the Spanish Railway Foundation, they now have around 120 routes. The scheme prides itself in 'access to all' by maintaining smooth pathways for ease and comfort to all users.
The obvious benefit to this greenway program is that it is traffic-free except for the odd crossing. The beauty lies in the fact that by using old infrastructure the routes are blended so well with existing landscapes. Bridges and viaducts have been restored, tunnels are lit, and riverbeds saved.
If you are after peace and tranquillity for your ride, this is your place to be.
Natural Parks
There are eight natural parks in Costa Brava and Girona Pyrenese. You will find some greenways run through the national parks.
Cap de Creus is one of the most outstanding parks in the area. Full of twists and turns and a decent incline. If you are up for it, you will be rewarded with the most stunning seaside views at the top. The climb through this rocky mountain terrain is renowned for its spectacular sunrise where you are greeted with a myriad of pink, purple and red hues – a true Salvador Dalí favourite.
EuroVelo Route 8
The Pirineus Route (part of the Mediterranean Route) passes through this part of Spain. In total, it goes through 53 different towns and eight counties, again using greenways and rural track roads to keep your cycling as traffic-free as possible.
You may not want to do all the route. Instead, you can pick and choose your section depending on your fitness level and what you might want to see.
Catalonia – Where Professionals and Amateurs Cycle Side-by-Side
More than 55% of Catalonia's population owns a bike for personal use. 450,000 of them cycle every day. The region, especially Girona, has also been home to cycling greats, like Lance Armstrong and Bradley Wiggins. One thing you can never be certain of is just who you are riding next to. You are more likely to rub tyres with a cycling pro here than anywhere in the world.
No Wonder Catalonia Is Best for Cycling in Spain in Spring!
This is just a very brief overview of why Northern Spain – and Catalonia, especially – is one of the best places for cycling in Spain. When you start to look at what's on offer, it's simply no wonder cyclists of all nationalities love it.
Of course, this last year's travel has been difficult, but a negative PCR test and a short hop on a plane can still get you the cycling holiday of your dreams.
There are some things to be mindful of when cycling abroad. Here, for example, each national park has its own rules about cycling. Therefore, most tourism websites recommend you have a local guide for cycling.
At Bicilona we can offer advice (including your packing list), planning, and tours to suit every level. Why not get in touch and we can get planning together.