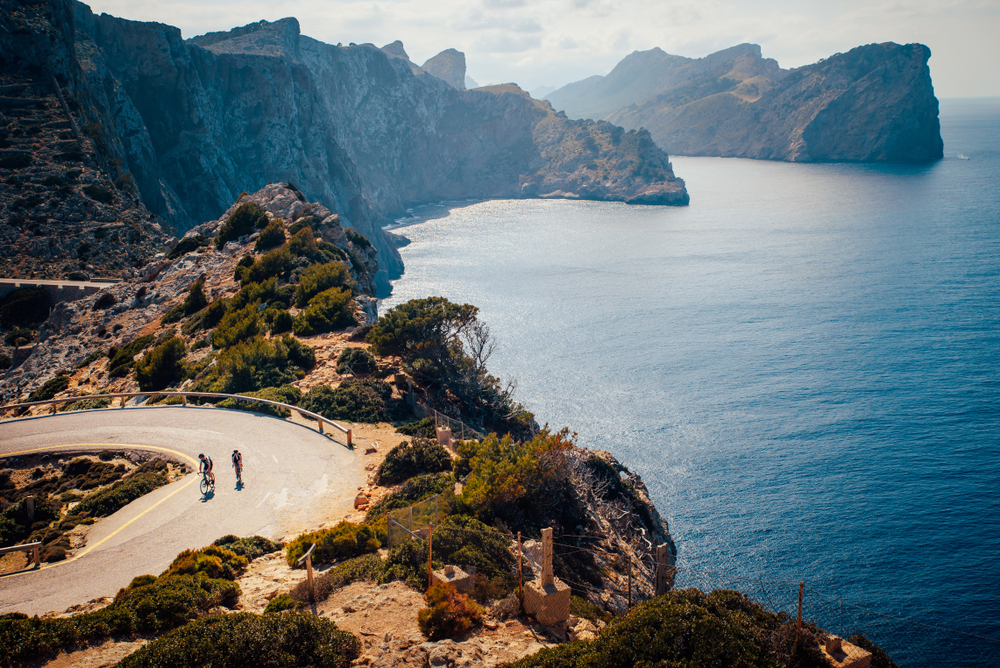 7 Tips to Plan a Solo Cycle Tour in Cycling Paradise
Solo cycling is not for everyone, but there are also cyclists who wouldn't want to experience their trips any other way.
For a start, you get to cycle at your own pace. You won't be at the back of a fast group, holding others up and struggling to stay in touch, and you won't have to slow down to allow slower riders to catch up.
You can ride as long or short days as you wish. You can stop to take in the scenery, have a bite to eat, or simply for a rest break as you wish.
The solitude is something to cherish. No need to talk to a rider in an unknown group. Just those deep conversations with yourself that we all need occasionally.
Oh, and you get to pick your route, to fit in what you want, see the sights you wish to see, and experience the culture that appeals to you.
But is solo cycling something you should do in the Pyrenees, where you'll find some of the toughest cycling in the world (and some of the most pleasurable, too)?
The Pyrenees: A Cycling Paradise
With a long cycling history, steep climbs, fast descents, drier and warmer than you would think, fantastic views, and amazing villages dotted throughout, the Pyrenees are something of a cycling paradise. Sure, winter can be hard – it's high up there – but the roads provide some of the finest mountain cycling opportunities in the world, especially in spring and summer.
If you are a seasoned cyclist who wants to be tested, then you'll find climbs here that feel like you are pushing vertical.
If you are not so seasoned, then there are easier routes that will give you a taste of real mountain riding without the 2,000-metre climbs and extreme temperature differences.
Tips for Solo Cycling in the Pyrenees
Search the internet, and you'll find stories and videos of many cyclists who have undertaken to cycle the Pyrenees on their own. Some on one- or two-day trips, others who have cycled the length of the Pyrenees over eight or nine days.
Like solo cycling anywhere, success is all in the planning. Here are seven tips to help you plan a solo cycling tour in the Pyrenees.
1.     Train for it!
Whatever the level of your cycling ability, don't turn up cold. Do some training. Get your fitness up and cycle a few long trips before you come. If possible, get in some serious hill work before you set tyres on the mountains.
2.     Choose the right bike
We're talking gears here, to help you conquer the long, steep climbs. And don't forget the spares ─ and practice with these, too. Check your bike before you head off, every day.
3.     Plan the route
There are many available routes to cycle in the Pyrenees. Some famous, and some a little less known. It's best to get some guidance here, and make sure that you match the route to your ability, time in the saddle, and other aspects of your journey.
Before you set out on your solo Pyrenees tour, make sure that you're familiar with the route. Know your refuelling stops, and where you'll be spending your overnight stays – don't forget to book these, and keep all details handy enroute.
4.     Pack suitable clothes
Even though you may be expecting great summer weather, these are mountains. Weather can turn very quickly, so be prepared. On those peaks, you could experience rain, mist, and even snow. Hop over to our essential packing guide to learn more.
5.     Understand the rules of the road, and speak some of the lingo!
Learn the rules of the road for cycling in Catalonia, and don't forget to brush up on some basic Spanish, too.
6.     Beware the wildlife!
In this part of the world, cattle and sheep roam freely. And they have no respect for rules of the road! Oh, and there are stories of bears here, and wild boar. The rule of thumb is to give way and get out of the way.
7.     Take your phone and GPS
Make sure that you have your phone with you, and that it is fully charged, and that you have a GPS, too.
Top Tip: Get Expert Help
The cyclists you read about or watch on YouTube videos cycling solo in the Pyrenees are experienced. Often, they have cycled the routes before, and often in a group.
It's crucial that you understand the risks on your specific route, and that you prepare for them. Remember, if there is an emergency, it's going to take longer for help to arrive. So always share your location at every step of your journey.
If this is your first cycling in the Pyrenees, we suggest you do a group tour. You'll gain confidence and learn from others around you. If something should go wrong, you'll have other cyclists with you.
Otherwise, why not cycle with a guide? We can arrange a bespoke tour for you, either with a guide or with a support vehicle. You'll benefit from our expertise and have all your supplies in the support vehicle, but also benefit from the solo cycling that is your passion.
To learn more about our bespoke cycling tours, and how we can help you achieve your dream of going it alone with your bike in the Pyrenees, contact Bicilona today.