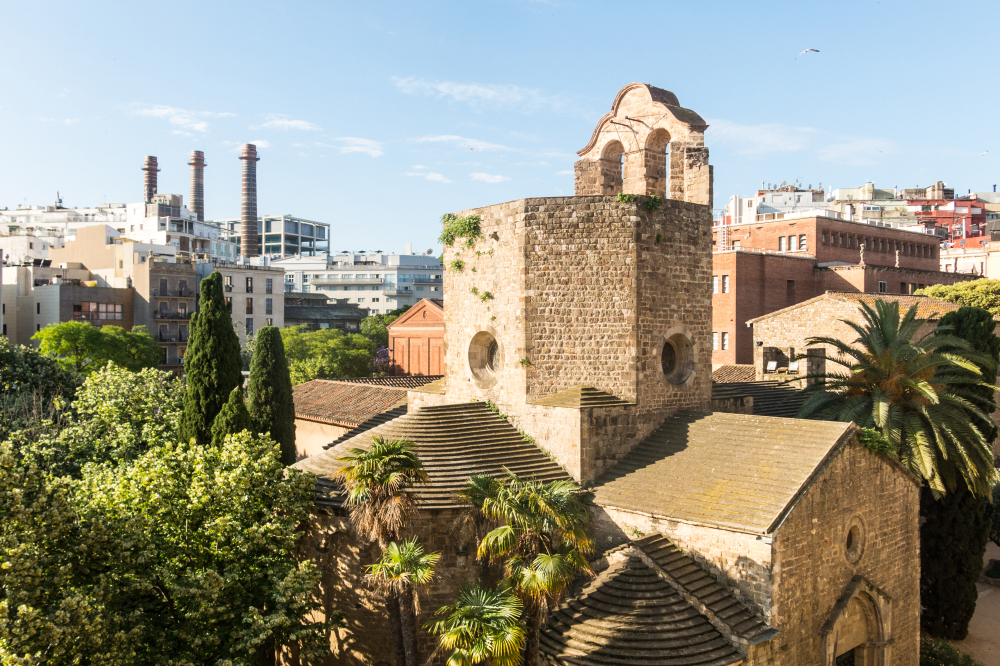 [vc_row][vc_column][vc_column_text][/vc_column_text]The Barcelona district of el Raval, located south- west of la Rambla, was a hub of industrialization in the nineteenth century. With the focus on the upper town and the bourgeois area of l'Eixample in the mid nineteenth century, the significance of Raval diminished and its worker and immigrant community was largely neglected. The barrio was densely populated and in the mid- twentieth century workers lived in poorly constructed blocks of flats where petty crime, drugs and prostitution were rampant. A centre of entertainment for liberal artists where theatres, brothels, bars and cabarets were plenty, Raval has been dubbed Barrio Chino for its American Chinatown- like bohemian vibe ever since the 1920s. A hiding place for anarchists, communists and republicans, it has suffered the most severe consequences of the victory of the nationalist troops in the Spanish Civil War. The port had been bombarded and many buildings remained in disarray for years. An asylum for artists and jazz musicians in the 1960s, the barri still faced considerable housing issues.With the arrival of heroin in the 1980s, Raval has seen 350 people die from overdose and two innocent passers-by murdered; knife fights of drug addicts were happening everywhere and so were brutal conflicts between rival gangs. AIDS became a real danger and the neighbourhood was in a state of utter crisis. All of these horryfing events were taking place where tourists now casually stroll down La Rambla, buy gifts on one of the small streets of Raval or enjoy a glass of sangria in one of Plaza Reial's restaurants! Certainly quite unthinkable for the modern visitor.
So what happened?
After Franco's death in 1975 and the Spanish transition to democracy one of the priorities for Catalonia was the promotion of a newly found freedom of expression. You see, Catalan was banned during francoism and any cultural activity was supressed and severly punished. In the 1980s in Barcelona little activity of note was occurring in theatre, opera, film or fine arts. For many years of the long dictatorship (1939- 1975!) any manifestation of Catalan identity or creativity was subject to censorship or punishment. One time in the 1980s Catalan architects, artists and intellectuals needed to hire a bus and travel to Madrid to see an exhibition of a prominent Catalan painter! Barcelona was in desperate need of some culture. What also happened has less to do with art or politics and more to do with sports.
Shortly after Spain has transitioned to a functioning democratic country, Barcelona was nominated as the host for the 1992 Olympic Games. This offered an unprecedented opportunity for the city council to revitalize and restructure its streets with a focus on its most underprivileged areas. Areas with housing issues, crime, prostitution and drugs. Areas like Raval. Oriol Bohigas, the architect mastermind of the renewal bet everything on small-scale interventions when it came to giving Barcelona a new face. Instead of making an all- encompassing and general plan of action for the entire city, he focused on the street, the park and the square. Dozens of such small projects have been undertaken in the district of Raval and hundreds across the entire city of Barcelona. Some large interventions were also made. An entire line of buildings in the heart of the barrio was torn down and a brand new open space was created from scratch, with trees, benches, pedestrian crossings and restaurant terraces: la Rambla del Raval. Did you know that the famous Raval cat was actually only moved to the district for the Olympics as it previously resided in Parque de la Ciutadella?[vc_empty_space height="32″][mkdf_blockquote text="And then, two things happened: Spain became a democratic country and Barcelona was nominated as a host for the Olympic Games."][vc_empty_space height="18″][vc_column_text]
So to recap, in the late 1980s Barcelona had no site to display its art and its barrios were deteriorating. And then, two things happened: Spain became a democratic country and Barcelona was nominated as a host for the Olympic Games. Put the two forces together and the idea of building MACBA – El Museu d'Art Contemporani de Barcelona in Raval was born. Erecting a museum for modern Catalan art would give Barcelona's culture elite a place to display their work and also, it was intended, it would revive the old barrio and bring it some culture and interest. However, the creation of the museum meant permanently relocating some residents, moving businesses from their properties and an utter demolition of some streets. The construction works were speedy and the doors of the new arts museum were open to the public in 1995. Miquel Molins, Barcelona University professor who resided in Raval was nominated the first director of MACBA the same year. Just before the 1992 sports event and the opening of the museum in 1995 there still existed local gangs, graffiti artists, prostitutes and old timers all around the district, which Molins was very aware of.
Interviewed for a documentary about MACBA he said he understood that to the locals, all this renewal business was an act of aggression. What was revitalisation to some meant relocation for others. With this in mind the director of MACBA, a Raval man himself of course, extended a plea to the petty thieves, criminals, gang leaders and prostitues to not disturb the construction site… who all respected his wish! The building was designed by Richard Meier, internationally recognised for his love for the colour white, the use of glass and the immense size of his projects. The museum produly stands amongst Raval's small streets. Today MACBA hosts dozens of highly valued modern art collections, but there has been criticism that the building was artificially inserted into the barrio and it still does not fit in. Although the museum was always treated with respect by the locals, it remains quite the site in Raval. The local kids skating around it might have a different view, but then again, maybe they don't mind the history too much. There is still prostitution and some petty crime in Raval but the gang wars and hard drugs have been significantly reduced by the Olympic urban renewal process. A lot has changed and Raval is a very different place to what it used to be in the turbulent 1980s. Maybe Manuel Vasquez Montalban, Catalan writer from Raval captured it all when he said in the 1990s: "I don't have any feelings of nostalgia for saving the degraded physiognomy of the Raval, even though I have occasionally written ironically and irrationally that they are taking away my city. I don't have nostalgia that these streets are dissappearing, since you can't live in them."
Imagine you could hear the footsteps of all that came and went through the barrio. Rivaling gangs, high-heeled prostitutes, petty criminals, drug addicts, armed police, repressed Catalans, brutal francoists, worried MPs, visionary architects, sunburnt builders, anarchists,  communists, republicans, desperate immigrants, physical workers, graffiti artists, Catalan writers, international Olympians, skater kids, milions of tourists…take a breath! and spare a thought for the beautifully complex history of el Raval.
[/vc_column_text][vc_empty_space height="17″][/vc_column][/vc_row]